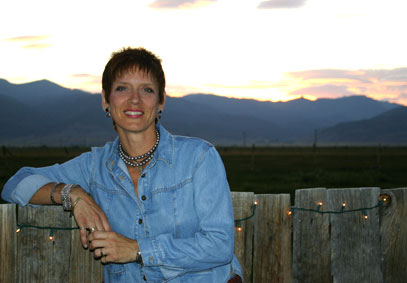 Mary Ellen Szper has been creating and selling art & unusuals, as well as writing professionally since 1972, taking her first professional commission while still in high school. She ran her own custom sewing work room in San Francisco, designing and building costumes, bridals and interior treatments for over ten years. She had a wild ride working in print and film as a stylist. Crazy long hours. Crazy energy. Wonderful, practical experience, that included two Showcase Showhouses, cover stories, travel and challenges of procurement and logistics that expanded project scope and required innovative solutions on the fly. Working without a net, as it were. A favorite environment, as it turns out.

Mary Ellen Szper
specializes in
Communication Solutions
for Outdoor Recreation Sites.

In 1993, the now commercially successful graphic design business took flight as flyingfrog.com. As an internet based design and illustration service enjoying a diverse clientele including a highly specialized niché market contracting with government agencies including the BLM, USFS and the County and State agenices.

Mary Ellen Szper is recognized for her special brand of humor and bold interpretations of simple and complex issues facing environmentally sound use of public lands. She has a long history of work with "pee and poo" in the non-flush environment.

You can find her art along the South Fork of the American River, Mt Whitney, and other sites through out North America. She knocked it out of the park in this project for the Rubicon Trail. Mary Ellen has designed logos for dozens of businesses and non-profits, as well as associated marketing collateral and exhibits.

Mary Ellen has combined her wanderlust and her bold sense of color to produce many whimsical murals along her travels through Mexico and the American West and South West.
A visit to her website, flyingfrog.com will provide a glimpse of the wide range of medium and techniques that showcase her varied skills, talents and flights of fancy. She has worked in leather, metal, glass, fibers, wood, paint, watercolor, and trash. She is also a professionally trained clown, former nanny and animal trainer. She is an unabashed free spirit who embraces the wanderlust.

Work Product runs the gambit of logos, taglines, brochure and marketing content writing, large scale murals, book covers, technical illustration, logo and branding packages, ads, brochures, cartooning, signage, marketing strategy, watercolors, pen and ink,
basics like business cards, rack cards
fold up maps and guides,
as well as presentations,
events and exhibits.
Media and techniques selected according to project needs and budget from high tech to hand worked. All with the same high standards of quality and professionalism.
ART SITES:
South Fork of the American River, CA
Stanislaus River, CA
Snake River, ID
Mt Whitney, CA
Rubicon Trail, CA
San Pedrito, BC Sur
Scottsdale, AZ
Bridgeport, CA
Placerville, CA
Coloma/Lotus CA
South Fork American River, CA
Rubicon Trail, EDC, CA

Costs are quoted ala carte
on a "per project" basis.
Client controls the budget.
All Digital Work Process(DWP)occurs online via email and web proof pages. This enables us to keep costs down and efficiency up and makes tracking simple.

."Reasonable Prices for
Exceptional Levels of Service"