Spiffy T. Clown

Contact Spiffy about Rates & Dates
Spiffy brings her joyful antics to community events, corporate functions, Trade Shows, grand openings, company picnics, hospitals, parades, fundraisers, fairs, and Unveilings. SpiffyTClown can be booked for ProductPresentations.
Click for a


Special Greeting


from Spiffy T. Clown
She is a high energy, interactive, foot tapping, dancin' fool at any event with music. She has infectious energy that gets the crowd involved and smiling. She also offers both stage show and small magic, balloon hats and animals, face painting with her Singing Brushes© and sweet natured walk-around and meet-&-greet antics. She is a pro at warming up the crowd, loves to mug with an MC, adores kids and seniors and thrills at surprise meetings! Spiffy has been seen parading with friends, Nougie Bear the Clown Dog riding the gentle llama, Butchie Boy.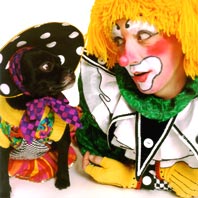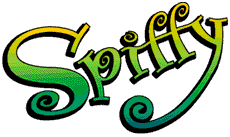 Spiffy T. Clown & Friends
this site is sponsored by flyingfrog.com
GRAPHIC DESIGN & ILLUSTRATION
photo credits - www.annfitchphoto.com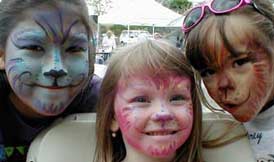 Trio of Terrific Tigers
painted at Innercite Customer Appreciation Day
EL DORADO HILLS, CA

Working Clowns!

Make a lasting, professional first impression,
in or out of face
? Check out these terrific, full color
Business Card and LOGO Packages
. They'll knock your goofy socks right off those funny feet!!!
Click to view some great Business Cards.
Spiffy is a member in good standing of COAI (Clowns of America International) Spiffy adheres to the Clown Code of Ethics and is a totally G-rated, kid friendly show.
Spiffy, Spiffy Logo and Clown Logo are protected by copyright
and are property of flyingfrog.com design.
This site is maintained by flyingfrog.com
GRAPHIC DESIGN & ILLUSTRATION